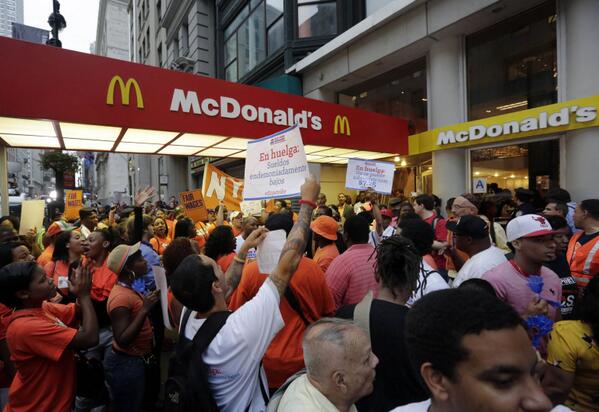 A 24-hour strike has been staged in the United States by fast food workers in an effort to protest over low wages. This has seen the country's popular fast food sector come to a standstill. The workers are demanding the country's minimum wage be increased to over $15 an hour; President Obama has so far backed the Senate's bid to increase the hourly rate to $10.10.
Thousands have come out in the streets in about 100 cities throughout the day to protest a more acceptable minimum wage. Employees at McDonalds, Wendy's, Walgreens, Macy's and Sears walked off their shift in New York, Boston and Los Angeles, to name a few cities.
The minimum wage issue is really squeezing Americans' pockets with many having to support themselves with the help of food banks. The federal minimum wage presently stands at $7.25.
The strike has been organised by the labour unions, Democrats and worker's advocacy groups. Inflation is high in the United States at the present with many unemployed, but the conditions faced by fast food workers doesn't seem to be improving either.
Read the rest of the post at it's original source by clicking here.