Another week has whizzed past and we all hear the spring calling us (well I do !) I hope half term  has been good to those of you with school aged children or who work in the education system. I've certainly had a fab time. A whole day of crafting with friends, time spent with our little guest Bean and the icing on the cake my northern babies home for a long weekend! Splendid times for all! I have also agreed to a having a stall at a craft fair in March which is a new road for me. I normally only do commission orders and on line sales. Not sure how it's going to work out, not convinced it's a good idea but lets give it a go! Any advice would be gratefully received!
I hope you all enjoy this weeks craftiness, last week's was so jam packed it took me nearly all day to get through and read everything! You continue to astound me with your talent and imagination. My normal Monday morning will have to be pushed forward to Tuesday this week (airport run!) and so bear with me I will read them all and I'm sure they will be every bit as wonderful as lasts weeks!!
Mary, Keynko.
Red Ted Art – Where the Wild Things Are MASKS!
If you enjoy reading Where The Wild Things are you may enjoy making a craft to go with it – convert the humble Paper Bag and make masks!
Like this?Read more… // Find Red Ted Art on Facebook //  Find Red Ted Art on Twitter
Zing Zing Tree – Frame Your Hama Bead Creations
It's taken me a while to come round to enjoying Hama beads with my girls. To start with they were just too fiddly and time consuming, which inevitably ended up with tears of frustration. Then there's the mess … those beads get everywhere!
A year on and it's all changed. Gone are the days when the beads mainly decorated my floor. Now they are placed with great precision and care to create tiny little masterpieces. But what to do with those masterpieces? …
Put them in frames.
Like this?Read more… // Find Zing Zing Tree on Facebook //
Find Zing Zing Tree on Twitter
A recent bout of jet lag led to Little Miss A waking up at 5 am for several days in a row. Our morning routine and eating breakfast only made a small dent in our very early start to the day, so I decided to roll out the craft box to kill some time.
We eat a lot of eggs at Casa Little Miss A, so I thought of making a family of caterpillars out of an old egg carton – like I did as a school aged child.
Like this?Read more… // Find Me He & Them on Facebook //  Find Me He & Them on Twitter
A Mummy Too – Learning about birds – making bird cakes
We've been going out to check our bird feeder every day and while the seed is definitely going down, we've yet to catch a bird in the act.
Not to be deterred, we made up our own bird cake recipe and put a couple of these on the wall opposite our kitchen window. Our garden should be teeming with birds soon.
How to make bird cakes
For each bird cake you'll need…
Like this?Read more… // Find A Mummy Too on Facebook //  Find A Mummy Too on Twitter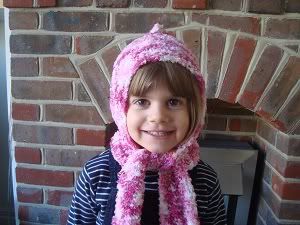 Ever since I started knitting this for Faith it has been known as the hat scarf thingy! You see, it is a hat but it is also a scarf. I supposed it could be called a hooded scarf or maybe a harf or a scat… Anyway, whatever you want to call it, it is finally finished and just in time for the cold weather.
Like this?Read more… // Find Cooking, Cakes and Children on Facebook //  Find Cooking, Cakes and Children on Twitter

Rags N Stitches – Time line of bunnies…and the craft fair, selling, twitter…etc
So something super good happened two weeks ago. I sold my first Sew…Bunnie! online at my folksy store. OMG I cant tell you how excited I was *bounce bounce*. I found out this piece of delightful news during my husbands radio show (on Recharged Radio Saturday 10am-12pm), and you could hear me squealing in the background.
Like this?Read more… // Find Rags N Stitches on Twitter
I made this little felt heart the other day. I love crafting with felt but have found that things sew up very quickly and then I don't know what to do with them, so I added a bit more embroidery to try and slow down a bit.
Like this?Read more… // Find Jennifer's Little World on Twitter
Managing the Mayhem – Home Made Reversible Car Seat Blanket
I am a seriously lucky girl. A couple of weeks ago the BigD bought me a sewing machine. I have been lusting after a sewing machine for so long but could never justify it as I had never really used one more than once or twice before. We were browsing a department store in town to see what to look for in a 2nd hand model. We came across a really good deal in the sales and it was too good to pass up when we took into consideration guarantees/warranties etc…
Like this?Read more… // Find Managing the Mayhem on Facebook //  Find Managing the Mayhem on Twitter
For those of you familiar with my blog, you know that the following blog post is one of the lesser-spotted variety – A CRAFT POST!!!!! Please treasure it.
For those who aren't familiar with my blog, then you need to know that if I do get involved in crafts, they are either or both of two things – a) super easy b) a little bit random. The sock monkey fits both of these descriptions beautifully.
Like this?Read more… // Find Trouble Doubled on Twitter
My children have exactly a week between their birthdays, so I thought it would be a nice idea to have some birthday bunting which goes up every year on the day of my daughter's birthday and stays up until just after my son't birthday. A couple of weeks ago, I found some time to sit down and get sewing. Here is how to make birthday bunting!
Firstly, cut a triangle out of cardboard in the size of the flags that you want. Then use this as a template, draw round it and cut out the triangles.
Like this?Read more… // Find You're not from round here. on Facebook //  Find You're not from round here. on Twitter
Sweet Mabel – Something to inspire
Hang a pretty mood board on your wall and fill it with pictures, photographs, fabrics, ribbons and anything else that makes you feel a little bit excited when you look at it.
Like this?Read more… // Find Sweet Mabel on Facebook //  Find Sweet Mabel on Twitter